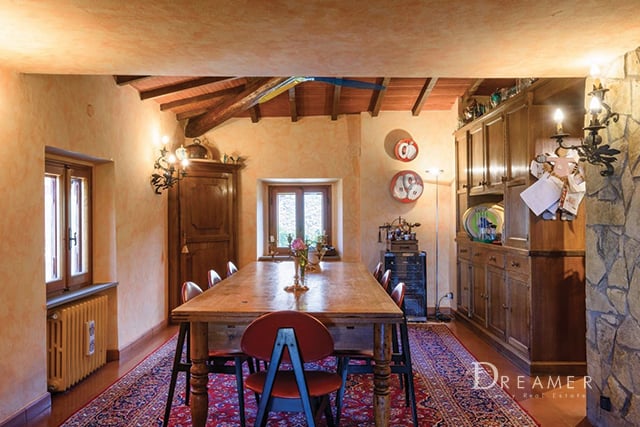 Beautiful countryside estate in Chianti composed of a charming hamlet with a main residence and various annex buildings used both as guest houses and rural/storage areas. The property is a well known producer of excellent quality of wines. The property includes 43ha of land and 10ha of vineyards land geographically located south/south east on the border between Florence and Siena, in Panzano in Chianti. The wine variety are: Chianti Classico DOCG-IGT, Sangiovese , Merlot, Cabernet Sauvignon and Vinsanto, the plant density for hectare is of about 4.500 tree woods.

The brand produced by the farm is already known and well introduced on the international market. Since1990 till today it has been receiving over 500 national and international awards on the whole range of wines produced.

Since 2012 the company has become officially Biological and it's been producing high quality wine.

The VILLA is arranged over several levels; on the ground floor there is the entrance with a studio and a little bathroom, there is also a tasting room and a large kitchen with a big wood burning oven. At the second level there is another kitchen and dining room, a large living room with fireplace, 4 bedrooms and 3 bathrooms. Terrace overlooking the valley with hydromassage. The Dependence has a kitchen, a living room, 2 bedrooms and 1 bathroom. In the Studio there are two large rooms and bathroom. The Cellar represents a true treasure for the estate: there are 300 liters oak Barriques and French Tonneaux lying close to the cement tanks used for fermentation. A specific room created just to make Vin Santo, is an other pride of the estate and the crowning of the production and aging of the wines.

Dreamer Real Estate is a real estate agency specializing in the treatment of prestige properties and homes for sale or rent in Tuscany and the Florence area. Luxury apartments and penthouses in the center of Florence, splendid properties and historic buildings near the Ponte Vecchio, immersed in the center of Florence.