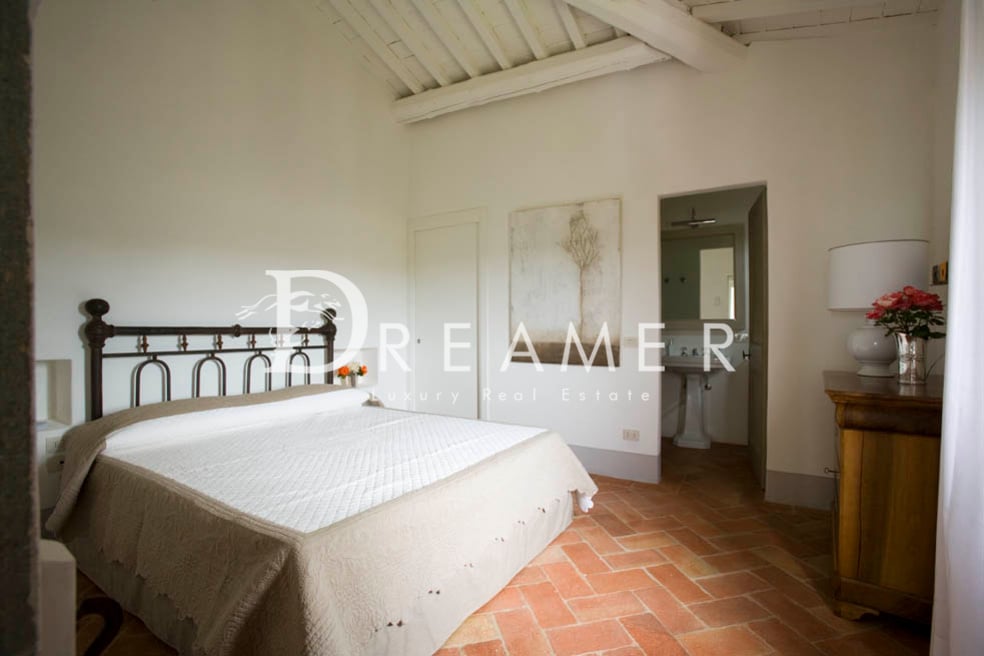 zoom_out_map
Splendid villa with swimming pool ​and​ panoramic terraces​ ​for sale in Chianti​.

Strategically oriented on top of one of the hills in the heart of​ Chianti​ offering breathtaking views over the Tuscan hills​ and valleys and the surrounding countryside.

Originally built in the year 1000 AD, this​ historic luxury villa​ has undergone a long and meticulous restoration.

The Estate is made up of two distinct bodies (total 700sqm), connected by a glass corridor. Both the old tower and the barn have been​ completely restored​ with old ​antique terracotta floors​ and reclaimed​ wood ceilings​, showcasing the best of contemporary Italian design, with a very fresh and clean look.

In the​ Tower​ on the main floor there are​ two large living rooms ​with splendid ​arched windows​ that offer a spectacular​ view over the valley​; a​ twin bedroom​ (or joined as a double) with ​en-suite bathroom​; and a separate half bathroom.

On the first floor: a bedroom (double bed) with​ fireplace ​and large bathroom with double shower​; A twin bedroom (or join as a double) with ​en suite shower room​, and a bedroom (queen size bed) with ​en-suite bathroom ​and ​adjoining living room​ (perfect for reading) with large ​fireplace​.

Second floor: A master bedroom with ​queen size bed​, separate ​dressing room ​and large bathroom with​ luxurious tub and separate shower cubicle​.

The completely​ renovated barn​ has a ​gourmet kitchen​ on the main floor with all facilities: two ovens, a microwave oven, double refrigerator, wine cellar, 8-burner induction cooker, double sinks, professional dishwasher; dining room for 16-18 places, laundry and service bathroom. On the first floor two bedrooms (queen size beds) each​ with a private bathroom​.

And finally the ​Guest House​ which is located on the same level as the swimming pool, a studio apartment with double bed, bathroom with shower and kitchen / living room combination.