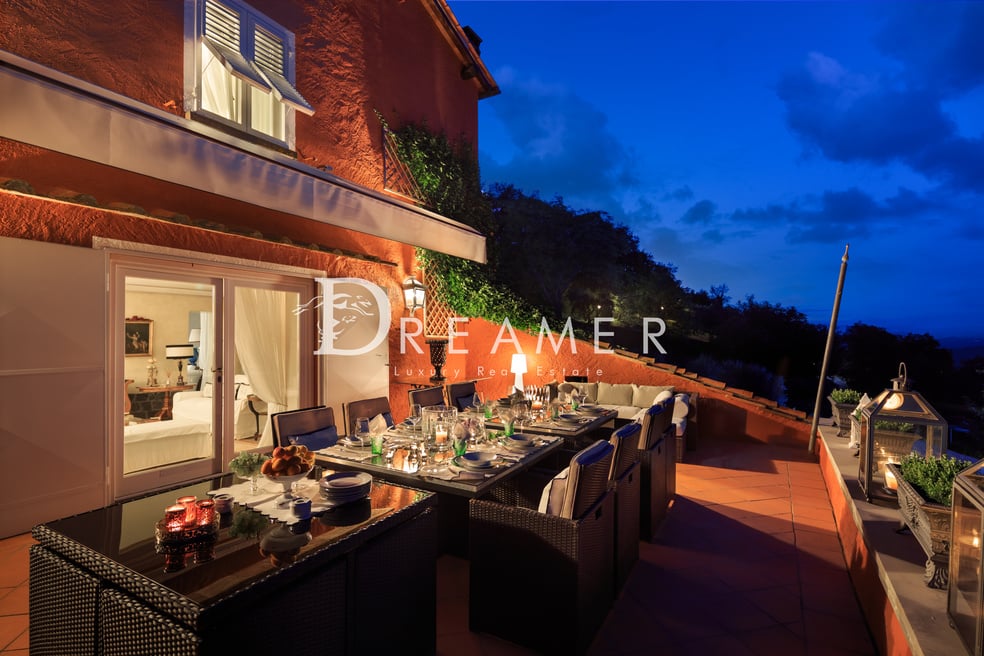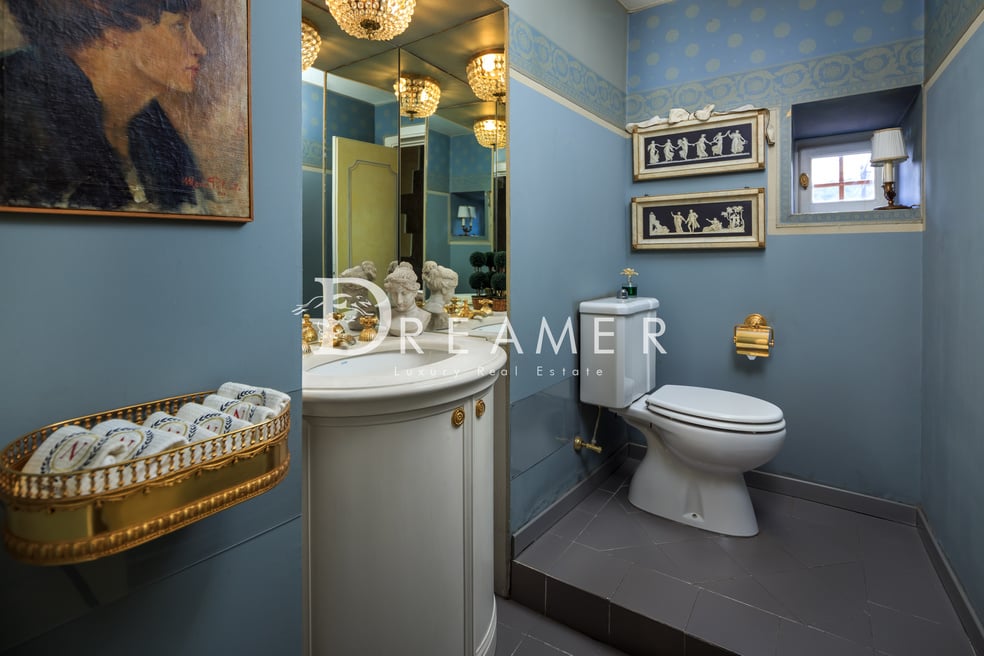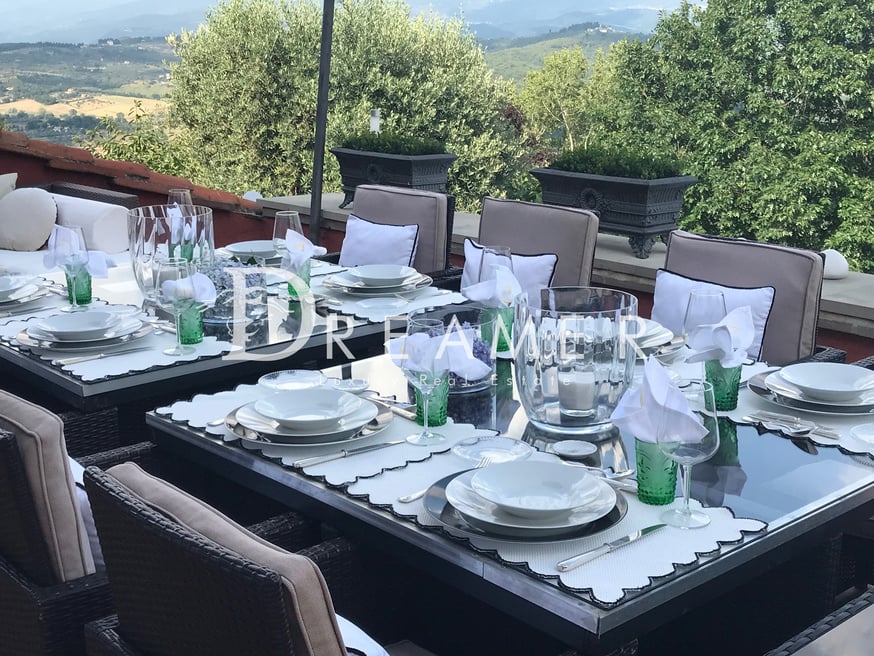 Beautiful villa for sale in the Florentine hill, just 15 km from Florence. Composed of a 250 sqm lemonade and 8 hectares of fenced land that stretch around the villa, with two pools, which gain stunning views of the Tuscan hills.
The villa dates back to the 13th century, originally built as a watchtower from which its only location derives.

Inside the villa, we find seven bedrooms and eight bathrooms, one of which is service. Arranged on three levels where: on the ground floor, we find a terracotta tiled patio used as a relaxation area, with barbecue area and stone pizza oven. From the patio, there is the main entrance, from which you access the day air consisting of a large living room with an antique fireplace and the second living room and the dining room also with an antique fireplace. From the large windows of one of the rooms, you can access a magnificent terrace/solarium, perfect for outdoor lunches and dinners with spectacular views of the surrounding countryside. always on this floor, we find a second dining room with back garden access, via a staircase, and the service bathroom. Fully equipped kitchen with wood-burning stove connected directly through a door to the patio. The ground floor features an original Gothic stone arch. Through a sandy stone staircase leading to a large landing on the first floor, we find 4 bedrooms and 3 ensuite bathrooms: master bedroom with wood paneling and air conditioning, single room, bathroom (with shower room), master bedroom/suite, air conditioning and ensuite bathroom (with hot tub) and with walk-in closet, additional double room, air conditioning and private bathroom (with bathtub). The 3 bathrooms (ensuite) are all finished with Portuguese pink marble and luxury accessories. The master bedroom is accessed via a staircase to the upper floor where we find a large walk-in closet. The villa in the complex is characterized by original wooden beams, the walls are finished with Venetian plaster in pastel shades and from the various windows of the villa benefits from a stunning view of the Tuscan hills that can be enjoyed by every room of the house. On the floor, we find a new pellet stove and two boilers of 300 L each and separate laundry room/service rooms for washer, dryer, and storage are connected to the main house and accessible independently from the garden.

About 8 hectares of walled land consists of landscaped gardens (designed by Pietro Porcinai), patios, olive groves, and fruit trees with stunning panoramic views. Swimming pool (8.5m x 14m wide and 1.70m 3.40m deep) managed by a saltwater purification system. Large modern lounge chairs and glass tables. Three areas equipped with gazebos arranged on three levels that follow the garden to terraces, private quiet places for relaxation and lunches and dinners outdoors
Garage with automatic gate. Small greenhouse/conservatory. Agricultural fabric. The property is fully fenced and accessed via two automatic cast-iron gates. New roof and new heating system. Solar panels that provide freshly mounted hot water.

A beautiful Limonaia with private and independent entrance completes the property well separated from the main body of the villa. About 250 square meters consisting of open-plan living area with stunning stained glass windows on Tuscan panorama, 2 rooms both with ensuite bathroom. Kitchen.
The same is possibly expandable to 380 square meters and benefits from a private swimming pool for exclusive use.

Valuable property, perfect condition and cared for in detail.