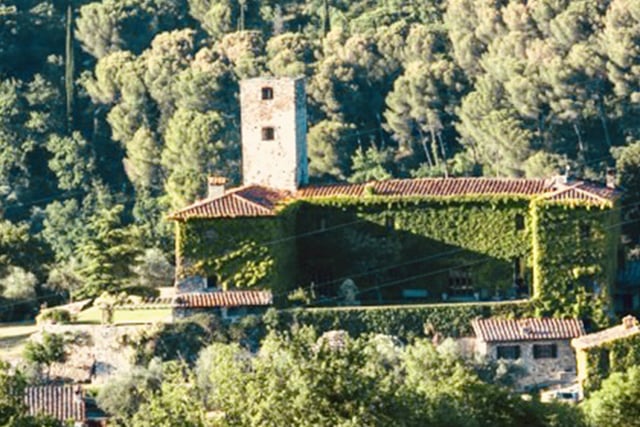 Castle for rent in Florence, prestigious property for short and long term rent.

If you are looking for a seasonal rental in Tuscany, the "Castello di Villamagna" is a charming luxury property located on the hills above Florence a few km (about 8km) from the historic center. Equipped with a splendid swimming pool, small gym, Jacuzzi and sauna, it can accommodate up to 6 people, has 3 bedrooms and 2 bathrooms.

The villa is distinguishable by the partial coverage in American ivy, which makes it unique in its kind.

The property covers a living area of 450 square meters, spread over 2 floors, can accommodate up to 6 people for a total of 3 bedrooms and 3 bathrooms and a suite (1 with shower and 1 with shower and tub).

Ground floor: The ground floor, with direct access to the park, consists of a semi-open space with several raised levels where there is a living area with a stone fireplace, antique furniture and modern details, all in a very elegant style but simple. Then follows a dining room for 6/8 people, and the kitchen overlooking the park side with a view of the city. The kitchen is medium in size and fully equipped (dishwasher, oven, fridge, freezer, microwave).

Next to the kitchen there is a laundry room (washing machine) with linen provided in the living room.

First floor: The first floor, reachable through the open space on the side of the main entrance, winds through two corridors that each lead to the 2 main bedrooms / suites, each in a different style and with its own independent bathroom.

On the left, you reach the room in the most ancient and classic style, bordering the medieval tower of the fort. The room has a double bed, library, part of the stone walls and exposed beams. The bathroom, with shower, is in stone.

The other room, on the side with a view of Florence, is a real maxi suite with double bed, closet, bathroom with modern finishes with double shower tray, two sinks. The room is connected to a relaxation area with a small gym, Jacuzzi and sauna located in front of the window with a view. Also on the first floor we find the "service" room with two single beds. The swimming pool is detached from the villa, about 400 m and can be reached either on foot (10 min.) Or by car (recommended for the difference in height and the unpaved road), equipped with umbrella, deck chairs and sun loungers.