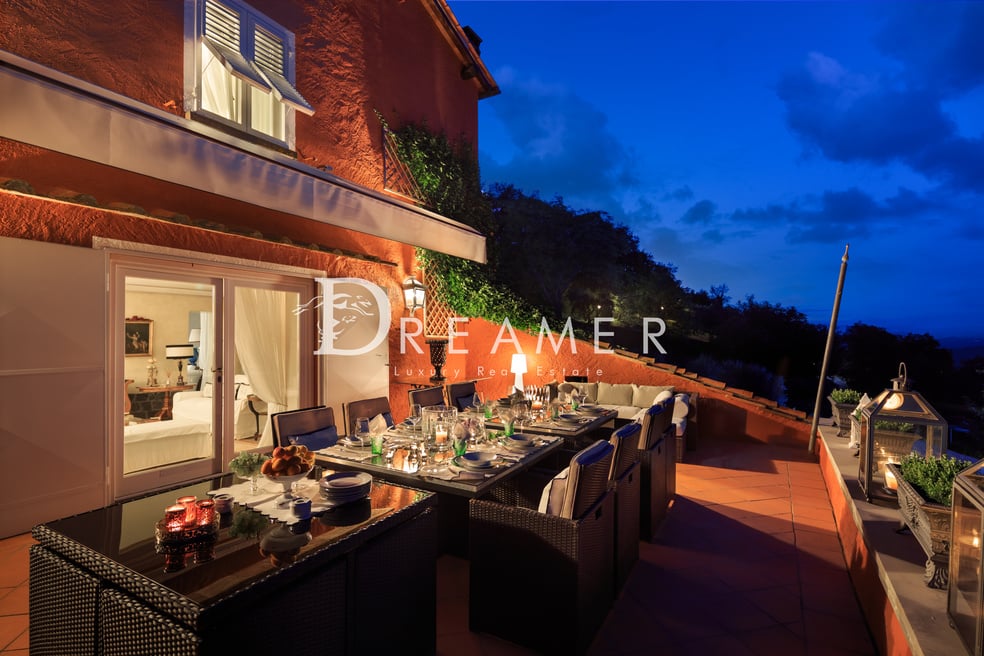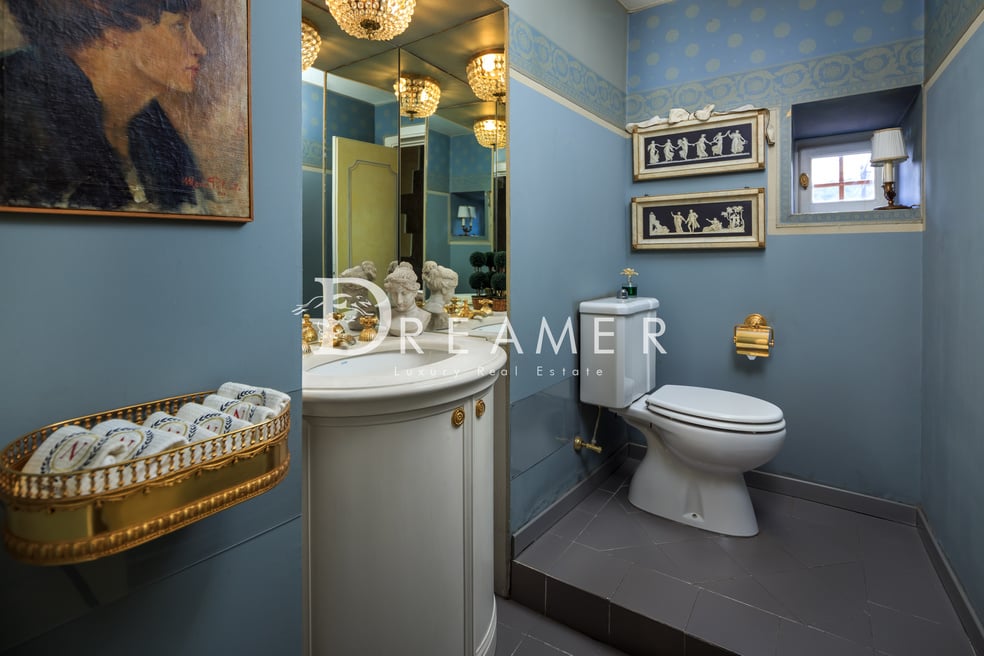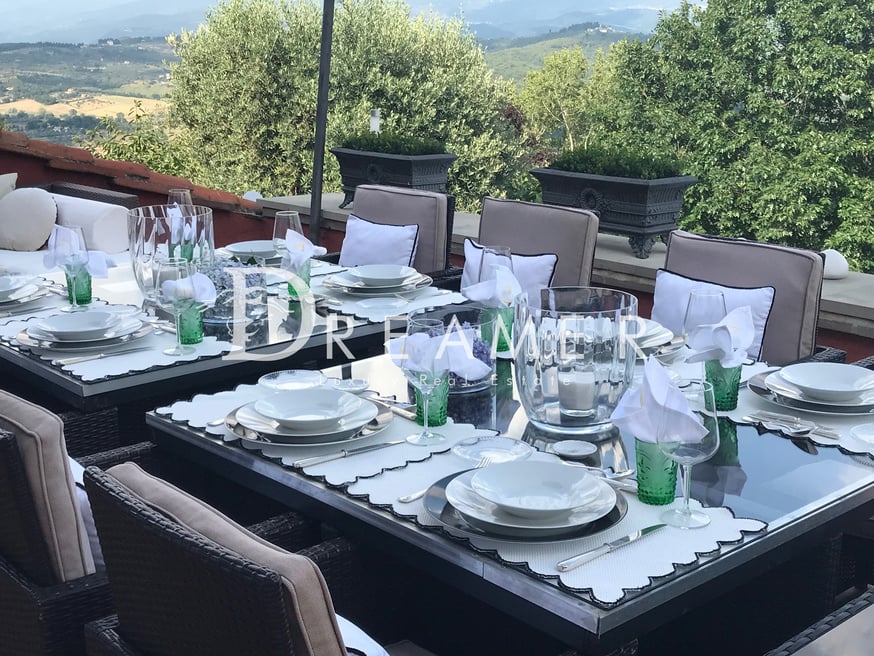 Beautiful villa for rent on the hill in Florence. The Villa has an area of about 500sqm, 3 double bedrooms, 1 single room, 3 bathrooms plus 1 service. About 8 hectares of fenced land. The villa dates back to the 13th century and was originally built as a watchtower from which its only location derives. All just 15 km from Florence.

The main villa is arranged on three levels:

Ground floor: A 150 sqm terracotta patio with a stone pizza oven leads to the main entrance, from which you can access the large and bright dining room with an antique fireplace, a large living room also with an antique fireplace, stained glass windows and door with access to the terrace/solarium (60 sqm) overlooking the Tuscany countryside. A second and additional dining room with access to the back garden (via a staircase) and service bathroom. Fully equipped kitchen, which is directly accessed to the patio. On the ground floor an original Gothic stone arch dating back to the 13th century and a stone staircase leading to a large first-floor landing where we find 3 bedrooms and 3 ensuite bathrooms: master bedroom with wood panelling and air conditioning, single room, bathroom in the room (with walk-in shower), master bedroom/suite, air conditioning and en suite (with hot tub) and with walk-in closet, additional master bedroom, air conditioning and en suite (with bathtub). The 3 bathrooms (ensuite) are all finished with Portuguese pink marble and luxury accessories. On the high floor it is accessed via a staircase with sandstone flooring and original wooden beams, the walls are finished with Venetian plaster in pastel shades. Breathtaking views of the Tuscan hills can be enjoyed from every room in the house. On the floor we find a separate laundry room/service premises for washer, dryer and storage are connected to the main house and accessible independently from the garden.

About 8 hectares of fenced land and made up of beautiful gardens designed by the famous architect Pietro Porcinai. A patio, olive groves and fruit trees with stunning panoramic views. Swimming pool (8.5m x 14m wide and 1.70m 3.40m deep) managed by a saltwater purification system. Large modern lounge chairs and glass tables. Three areas equipped with gazebos, arranged on three levels that follow the garden to terraces, private quiet places for relaxation and lunches and dinners outdoors. Garage with automatic gate. Small greenhouse / conservatory.

Perfect conditions, valuable property and cared for in detail.

The garden-park is terraced, perfectly maintained, in an absolutely spectacular and private location.
It has BBQ gazebo area and a saltwater pool of 8.5 x 14 meters. There are double loungers and umbrellas of course.

The villa has TV, high speed wi-fi, washer, dryer and all the amenities.

Access is through an automatic gate.

The rental includes:
- sheets and towels, provided on arrival (beds will naturally be made) - plus three changes of towels (three for each bathroom and pool) and three sheet changes
- internet, cooking gas, water (hot and cold)
- kitchen equipment: plenty of pots, knives, plates, glasses, tablecloths, coffee machines (nespresso and American), etc.

Extras (on demand):
- woman of service: .12/hour
- pre-stocking service: if they send us the shopping list, we do fresh shopping before arrival and we find everything in order in the kitchen and in the fridge. The cost for the service is 50-150 plus the cost of shopping (we give the receipt), it depends on the shopping list (how expensive it is, how many different shops we have to visit, etc.
- cook service for lunches or dinners - .45 per person, plus the cost of spending. The service includes going shopping, cooking at the time customers choose, preparing the table, serving, tidying everything up perfectly
- we have contacts with excellent chauffeur services and we can help organize airport transfers, trips to Florence or in Chianti cellars (and beyond), etc.